When family and friends can't, compassionate companions step in to make sure No One Dies Alone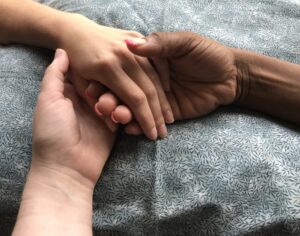 From the hallway, it simply looks like someone is sitting at a patient's bedside. Yet, if you pause and look closely you will recognize it is a sacred encounter. You will understand with your heart that the reason for compassionate companioning is to assure the patient has someone by their side in their dying moments.
No One Dies Alone (NODA) is a hospital volunteer-centered program that focuses on the needs of someone who is nearing their end of life without a family member or friend at their side. Our purpose is to provide a compassionate presence and offer comfort for these hospitalized patients so that no one dies alone.
"I have to go back to work, but it is such a relief to know that someone will be sitting with my mom, and she won't have to be alone at this time. She was always afraid of being alone in the hospital. Your volunteers are an inspiration." – patient's daughter.
In 2009, the NODA program began at St. Peter Hospital. Soon after the NODA program was established, we extended this service to Providence Mother Joseph Care Center, then six years later expanded to Providence Centralia Hospital.
This program trains and prepares volunteers who are drawn to this service to peacefully accompany patients who desire to have someone at their side in their dying. This wish to not be alone may also be communicated by a family member or friend, so that their loved one is honored in their dying.
Compassionate Companions are notified when a patient in the hospital is dying without a loved one by their bedside. The companion holds vigil at the bedside to ensure the patient is not left alone in their final moments. During that time, the compassionate companion conveys a peaceful manner and spirit, reassures the patient they are not alone, and serves as a caring presence for the patient. Our companions have diverse backgrounds and bring their own unique gifts and experiences providing a comforting presence to an actively dying patient whose loved ones cannot be present.
"All the NODA volunteers I've worked with at the bedside have been very attentive, compassionate, and strong advocates for the patient." – Providence St. Peter Hospital RN
Through the NODA program, compassionate companions are the comforting hand and calming presence that embody respect and dignity to those who are on their end of life journey. Please consider a gift in support of this meaningful and sacred service.
"No one should die alone… Each human should die with the sight of a loving face." – Mother Teresa

Thank you!
This program only exists through the generosity of our community. We thank you for your support of the Providence NODA program through the 2023 Christmas in the Forest Fund A Need.
For more information, please contact:
Stacey Genzlinger
360-493-7985
stacey.genzlinger@providence.org